JNR Electric Locomotive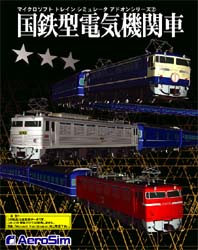 Method :
Direct DOWNLOAD
Price :
USD 35,00
Compatible OS
FWindows98/Me/2000/XP
Only for exclusive use with Microsoft Train Simulator.
* Microsoft Train Simulator is required to play this add-on software.
* 400MB of HDD space is required for installation.

---



Microsfot Train Simulator was released by Microsoft, and available in PC stores.
Train Simulator is unprecedented PC game which takes you to the virtual railway world,
where you can control the season, or even weather of the day.
This add-on software will add the Blue Trains and the Freight Trains to Microsoft Train Simulator.
---
The Blue Train and the Freight Train operated by JNR in old days are eagerly desired by the enthusiastic fans of Train Simulator. Now, they have come back vividly in the scene of Train Simulator.
Elec Loco of EF65-500, 1000, 1100, EF81-100, 300, ED76 and EF66 are revived. The carriage of 14 series, type 14 and 24 seires, type 25 are also appearing in the scene.
The freight trains, such as container train, boxcar, reefer, hopper car, tank train and conductor are all made available.
The Blue Trains are composed with [SAKURA] [FUJI] [HAYABUSA] [ASAKAZE] [AKATSUKI] and [SUISEI]. The Freight Trains are also composed variationally.
Of AI category, you'll find 115 sereis, 415 series and DD51 Diesel locomotive.
* AI trains are not controllable.
Electric Locomotive
C a b
Internal View
of the Cabin
Carriage and
Freight train
---
The operation through the Kanmon undersea tunnel would offer most excitement to your game play. The railroad from Ogoori and Kokura runs through the Kanmon undersea tunnel.
Included in this add-on software are many activities, which harnessed the feature of a route, such as switching of an electric locomotive.
---
[JNR Electric Locomotive] can be purchased through the On-Line Shopping.
Please go to our On-Line Shopping for further detail. (applicable only for customers residing in Japan)
---
Copyright(C) 2004 AeroSim Co., Ltd. All rights reserved.