Crossover Add-on for MS flightsim
(CFS3, CFS2 and FS2002)
Available in Store, Now!
Medium
: CD -ROM
Price
: JPY 6,090 (JPY 5,800 w/o tax)
OS
: Windows98/Me/2000/XP
Add-on Software for Combat Flight Simulator 3
* Microsoft Combat Flight Simulator 3 is a "must have" item for play with this add-on software.
: 80MB of HDD space is required for installation of this add-on soft.
This add-on soft is backward compatible with Microsoft CFS2 and FS2002.
---



Microsoft Combat Flight Simulator 3 was released by Microsoft and available at PC store nationwide.
It is the full-scale combat game in which the texture of Warplanes, Scenery and Clouds were upgrated to the great extent for the arena of European battlefront.
This Add-On series will give a life to the WWII warbird for Combat Flight Simulator 3.
---
---
Demo Video are made for your preview! Please download it and enjoy!

*

You are required to use the latest version (Ver 7.0 or later) of Media Player for replay.
Otherwise, Video may not be replayed well.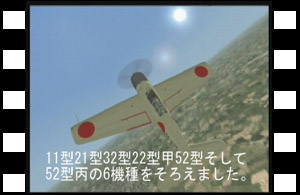 Demo Video of Museum Model, and Combat Model.
ZERO3_DEMO_01.wmv(8.8 MB)
---
Copyright(C) 2003 AeroSim Co., Ltd. All rights reserved.