Available in Stores, Now!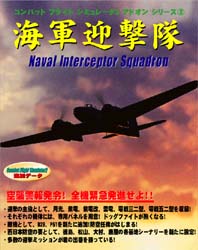 Medium :
CD-ROM
Price :
JPY 6,090 (JPY 5,800 w/o tax)
Comaptible OS
FWindows95/98/Me/2000
This Add-On Soft works only on Combat Flight Simulator2.
* Microsoft Combat Flight Simulator2 is required for installation of this add-on software.
* 130MB of free space on HDD is required for installation.
---



Microsoft Combat Flight Simulator2 was released by Microsoft and available at PC store.
Highly repurted and popularized first Combat Flight Simulator of Microsoft was given the new feature, such as the mobile Naval Fleets in the ocean. It has now become a full-scale combat game!
This Add-On software will give a life to the WWII Japanese Warbird in the arena of Pacific.
---
---
Windows95, Windows98, Windows Me and Windows2000
Microsoft Combat Flight Simulator2 must have been installed.
HDD Free space of 130MB or more
For install, CD-ROM drive is required.
---
Copyright(C) 2000 AeroSim Co., Ltd. All rights reserved.